Landscaping & Lawn Maintenance in the Southtowns in Buffalo, New York For Sale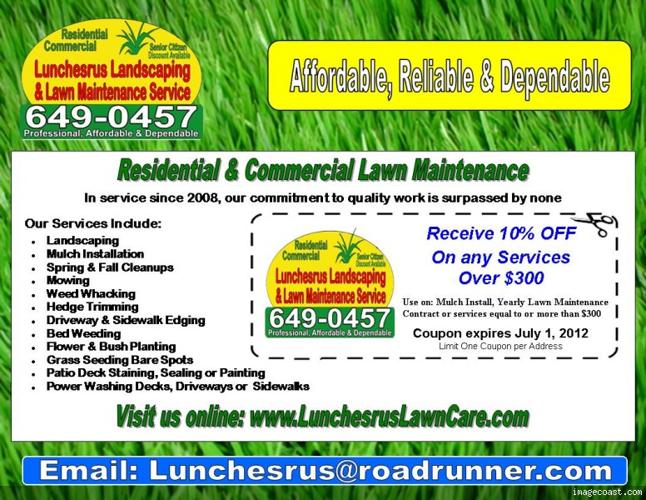 Date/Time:05 Aug, 02:58 p.m. EST
Type: Landscaping, For Sale - Private.

Professional Landscaping & Lawn Maintenance Service now servicing Hamburg, Orchard Park, East Aurora, Elma, Lakeview, Derby, Woodlawn, Blasdell, Eden and Lackawanna.
Affordable, Reliable & Dependable In business since xxxx, we are expanding. Seeking new clients in need of:
Mulch Installation
Mowing
Landscapes
Weed Whacking
Edging
Hedge Trimming
Spring & Fall Cleanups
Leaf Removal
Grass seeding bare spots
Flower Bed Weeding
Flower & Bush Installs
Deck & Patio Staining & Sealing
Power Washing Driveways, Sidewalks & Homes
Solar Lighting Installations and More!
We can bag cut grass upon request. We offer 10% SENIOR CITIZEN DISCOUNTS as well as FREE ESTIMATES! So if you're in need of a lawn care service for xxxx, or you're looking to switch from your current lawn care service, Sign a contract before March 31, xxxx to pay xxxx rates for this year! Why not give us a call and see what LUNCHESRUS LANDSCAPING & LAWN MAINTENANCE SERVICE CAN DO FOR YOU! CALL 649-xxxx for your FREE ESTIMATE TODAY!
See our website at: http://www.lunchesruslawncare.com

Time: 06:59 a.m. EST
Date: 04 Feb

Time: 04:43 a.m. EST
Date: 03 Feb

Time: 05:42 a.m. EST
Date: 02 Feb

Time: 11:03 p.m. EST
Date: 01 Feb

Time: 09:45 a.m. EST
Date: 01 Feb

Pure Angels -- (P.A.)
?????????????????????????? feel the difference that sensual fantast makes. experience a deep level of sensual...
Time: 09:30 a.m. EST
Date: 01 Feb